Individuals with Spinal Cord Injuries
Traumatic Brain Injury Survivors
Individuals Requiring Infusion Therapy
Ventillator/Trache Dependents
Terminally Ill
Veterans
Individuals Requiring Wound Care
All Ages, Pediatric to Geriatric
And More!



If you have a passion for caring, you've come to the right place! At Dobson Healthcare, we take pride in the care we provide and the caregivers we hire. We are looking for and expect our caregivers to have the same passion and drive that we do to help our clients stay home!

Dobson Healthcare offers caregivers independence, mobility, flexibility, and the ability to truly make a difference. In an institutional setting you are confined to the same activities day in and day out. At Dobson Healthcare, you have time to re-group between your clients and to care for your next as if it were your first.

We have been caring for Michigan since 1988, so we understand that you have a personal life too. We offer hourly care, visits, and short-term assignments to work around your busy schedule. We are looking for creative and passionate caregivers with diverse backgrounds in care for clients including pediatrics, geriatrics, quad/paraplegics, TBI, muscular/neurological disorders, and more!

We provide competitive wages, full benefits, flexible hours, and continuing education opportunities. Please see available openings for each position's requirements. All caregivers must obtain current physicals, TB, CPR, pass a criminal background check, reference checks, and drug screening. Ready to become a part of the Dobson Healthcare Family? Apply today using our online application! Once you have completed the online application, you will receive an email to complete our Healthcare Competency Test.

If you have questions regarding a career with Dobson, call us 866-866-8984 or email one of the following:


Recruitment & Scheduling Coordinators:
General HR Inquiries:

It takes a special person to be a Dobson health care professional, someone like you. Continuum of care, mobility, and flexibility are just a few of the many rewards of a career at Dobson.

Corporate

Care Coordination Team

Finance Team

Human Resources Team

Marketing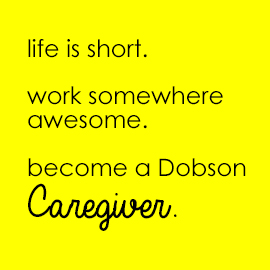 Use our online application to become a part of the Dobson Healthcare Family and help make independence possible for our clients.