March 8, 2018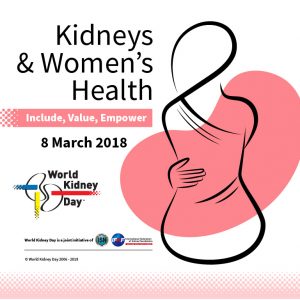 Chronic kidney disease (CKD) is a worldwide public health problem with adverse outcomes of kidney failure and premature death [1]. CKD affects approximately 195 million women worldwide and it is currently the 8th leading cause of death in women, with close to 600,000 deaths each year [2]. .
The risk of developing CKD is at least as high in women as in men, and may even be higher. According to some studies, CKD is more likely to develop in women compared with men, with an average 14% prevalence in women and 12% in men [3]. However, the number of women on dialysis is lower than the number of men. At least three major reasons are recognized so far: CKD progression is slower in women compared to men, psycho-socioeconomic barriers such as lower disease awareness lead to late or no start of dialysis among women [4] and uneven access to care is a major issue in countries with no universal access to healthcare. Kidney transplantation is also unequally spread, mostly due to social, cultural and psychological aspects: even in some countries that provide kidney transplantation and equitable treatment for men and women, women tend more often to donate kidneys and are less likely to receive them [5]. There is indeed a clear need to address issues of equitable healthcare access for women where it is currently lacking and increase awareness and education to facilitate women's access to treatment and better health outcomes.
Lupus Nephropathy & Kidney Infection
Some kidney diseases, such as lupus nephropathy or kidney infection (acute or chronic pyelonephritis) typically affect women. Lupus nephritis is a kidney disease caused by an autoimmune disease, which is a disorder in which the body's immune system attacks the own cells and organs [6]. Pyelonephritis is a potentially severe infection that involves one or both kidneys [7]. Kidney infections (as most urinary tract infections) are more common in women and the risk increases in pregnancy. To ensure good results, as most renal diseases, diagnosis and treatment should be timely.
Kidney Disease & Pregnancy
CKD is also considered a risk factor for adverse pregnancy outcome and reduced fertility. Women who have CKD are at increased risk for negative outcomes for the mother and the baby; pregnancies in women with advanced CKD are most challenging with high rates of hypertensive disorders and preterm births [9]. They may have reduced fertility but conception is possible, even if infrequent, on dialysis. On dialysis, results improve with intensive (daily or nearly daily) dialysis treatment, thus calling for dedicated programs for women of childbearing age [10].
In successfully transplanted women, fertility can be restored and chances of successful birth increase. However, as complications are observed more often than in the general population, preconception medical counselling should always be sought. There is a clear need for higher awareness on CKD in pregnancy, to timely identify CKD in pregnancy, and to follow-up women with CKD during and after pregnancy. In this respect, pregnancy may be also a valuable occasion for early diagnosis of CKD, thus allowing planning of therapeutic interventions.
In turn, pregnancy-related complications increase the risk of kidney disease: pre-eclampsia, a syndrome in which a defect of the implantation of the placenta affects normal kidneys inducing hypertension and proteinuria, is one of the 3 leading causes of maternal mortality [8]. Preeclampsia, septic abortion (infection of the placenta) and post-partum haemorrhage (major bleeding after giving birth) are leading causes of acute kidney injury (AKI) in young women, and may herald future CKD in survivors [11].
The burden of those maternal complications is particularly high for women in developing countries, due to insufficient access to universal and timely prenatal care, to improper management of women with preeclampsia, and to lack of availability of dialysis for severe AKI [12].
Our Message
There is a clear need for higher awareness, timely diagnosis and proper follow up of CKD in pregnancy. In turn, pregnancy may be also a valuable occasion for early diagnosis of CKD, allowing planning of therapeutic interventions.
On this occasion, World Kidney Day and the International Women's Day 2018 are commemorated on the same day, offering us the opportunity to reflect on the importance of women' s health and specifically their kidney health. On its 13th anniversary, World Kidney Day promotes affordable and equitable access to health education, healthcare and prevention for kidney diseases for all women and girls in the world.
References:
Kidney Disease: Improving Global Outcomes (KDIGO) CKD Work Group. KDIGO 2012 Clinical Practice Guideline for the Evaluation and Management of Chronic Kidney Disease. Kidney inter., Suppl. 2013; 3: 1–150.
Data on prevalence and mortality in women taken from GBD website: https://vizhub.healthdata.org/gbd-compare/
Global Prevalence of CKD – A Systematic Review and Meta-Analysis: https://www.ncbi.nlm.nih.gov/pmc/articles/PMC4934905/
Sex and Gender Differences in CKD: progression to end-stage renal disease and haemodialysis: https://www.ncbi.nlm.nih.gov/pubmed/27252402
Chronic Kidney Disease, Gender, and Access to Care: A Global Perspective: https://www.ncbi.nlm.nih.gov/pubmed/28532558
6.Lupus and Kidney Disease (Lupus Nephritis) https://www.niddk.nih.gov/health-information/kidney-disease/lupus-nephritis
Pyelonephritis: https://www.niddk.nih.gov/health-information/urologic-diseases/kidney-infection-pyelonephritis/definition-facts
Managing pregnancy in chronic kidney disease: improving outcomes for mother and baby https://www.ncbi.nlm.nih.gov/pubmed/27471410
Chronic Kidney Disease & Pregnancy: Maternal and Fetal Outcome: http://www.sciencedirect.com/science/article/pii/S1548559507000055
Acute Kidney Injury in Pregnancy – Current Status: https://www.ncbi.nlm.nih.gov/pubmed/23928385
Maternal mortality from preeclampsia/eclampsia: https://www.ncbi.nlm.nih.gov/pubmed/22280867
Source
January 16, 2018
More than 4 million injuries were reported in the seven sports between 2000 and 2011. Eleven percent involved injuries to the head and neck with 83% of these involving the head.
Head and neck injuries increased significantly over the period studied with 34,565 occurring in 2000, while 40,042 occurred in 2011.
Skateboarding, snowboarding, skiing and motocross had the highest number of head and neck injuries. Mountain biking, snowmobiling, and surfing had the lowest numbers.
Snowboarding had the most concussions. In fact, about 30% of concussions in extreme sports occurred in snowboarding. Snow skiing was associated with about 25% of concussions.
Skateboarding and motocross had the most severe head and neck injuries, like skull fractures and cervical spine fractures.
January 9, 2018
Remove the athlete from play.
Ensure the athlete is evaluated by a health care professional experienced in evaluating concussions.
Inform the athlete's parents or guardians about the possible concussion.
Keep the athlete out of play the day of the injury and until a health care professional experienced in evaluating concussion says they are symptom-free and okay to return to play.
This winter, use your head and play it safe.
January 2, 2018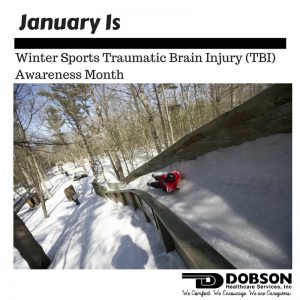 Winter is an exciting time. It's also a challenging time to stay active. Many of us participate in winter sports, such as skiing, snowboarding, ice skating, hockey and snowmobiling.
As with most sports, there are risks for injuries. Some of the more critical injuries involve the head.
What you can do to avoid or minimize head injuries
If you or a loved one participates in winter sports, you can take precautions to prevent head injuries during play:
Wear a properly fitted helmet that is appropriate for the activity. Helmets can go a long way toward preventing or reducing the severity of a TBI.
Set a no hits to the head or other dangerous play rule for hockey and other contact sports.
Take lessons. If you're going skating, skiing, or snowboarding, basic lessons will help you learn how to fall more safely and less often.
January 20, 2017
An estimated 12,500 spinal cord injuries occur in the U.S. every year, leaving the injured people, their friends, and their family, to cope with the aftermath of the catastrophe. For many, navigating the challenges of the health care system can feel a bit like going to medical school. Suddenly you're learning a veritable cornucopia of new terms, and may be spending endless hours Googling spinal cord anatomy to fill in the gaps in your knowledge.
An educated patient is better equipped to advocate for his or her needs and interests. An education in spinal cord anatomy helps you understand what your doctor is saying, ask intelligent questions, and detect medical errors before they endanger your health.
Spinal Cord Anatomy: The Basics
Though you might think of your spinal cord as one single piece, it's actually a column of nerves protected by a sheath of myelin and then further secured by 31 butterfly-shaped vertebrae (singular: vertebra).
Medical providers divide the spinal cord into four distinct regions. Knowing the region in which the injury is located is often the key to understanding diagnosis and treatment. The four spinal cord regions are:
The cervical spinal cord: This is the topmost portion of the spinal cord, where the brain connects to the spinal cord, and the neck connects to the back. This region consists of eight vertebrae, commonly referred to as C1-C8. All spinal cord numbers are descending, so C1 is the highest vertebra, while C8 is the lowest in this region.
The thoracic spinal cord: This section forms the middle of the spinal cord, containing twelve vertebrae numbered T1-T12.
The lumbar spinal cord: This is a lower region of the spinal cord, where your spinal cord begins to bend. If you put your hand in your lower back, where your back bends inward, you're feeling your lumbar region. There are five lumbar vertebrae, numbered L1-L5.
The sacral spine: This is the lower, triangle-shaped region of the spine, also with five vertebrae. While the lumbar cord bends inward, the vertebrae of the sacral region bend slightly outward. There is no actual spinal cord in this section, it is made up of nerve roots which exit the spine at their respective vertebral levels.
The coccygeal region, sometimes known as the coccyx or tail bone, consists of a single vertebra at the very base of the spinal cord.
Types of Spinal Cord Injuries
All spinal cord injuries are divided into two broad categories: incomplete and complete.
Incomplete spinal cord injuries: With incomplete injuries, the cord is only partially severed, allowing the injured person to retain some function. In these cases, the degree of function depends on the extent of the injuries.
Complete spinal cord injuries: By contrast, complete injuries occur when the spinal cord is fully severed, eliminating function. Though, with treatment and physical therapy, it may be possible to regain some function.
Incomplete spinal cord injuries are increasingly common, thanks in part to better treatment and increased knowledge about how to respond—and how not to respond—to a suspected spinal cord injury. These injuries now account for more than 60% of spinal cord injuries, which means we're making real progress toward better treatment and better outcomes.
Some of the most common types of incomplete or partial spinal cord injuries include:
Anterior cord syndrome: This type of injury, to the front of the spinal cord, damages the motor and sensory pathways in the spinal cord. You may retain some sensation, but struggle with movement.
Central cord syndrome: This injury is an injury to the center of the cord, and damages nerves that carry signals from the brain to the spinal cord. Loss of fine motor skills, paralysis of the arms, and partial impairment—usually less pronounced—in the legs are common. Some survivors also suffer a loss of bowel or bladder control, or lose the ability to sexually function.
Brown-Sequard syndrome: This variety of injury is the product of damage to one side of the spinal cord. The injury may be more pronounced on one side of the body; for instance, movement may be impossible on the right side, but may be fully retained on the left. The degree to which Brown-Sequard patients are injured greatly varies from patient to patient.
Knowing the location of your injury and whether or not the injury is complete can help you begin researching your prognosis and asking your doctor intelligent questions. Doctors assign different labels to spinal cord injuries depending upon the nature of those injuries. The most common types of spinal cord injuries include:
Tetraplegia: These injuries, which are the result of damage to the cervical spinal cord, are typically the most severe, producing varying degrees of paralysis of all limbs. Sometimes known as quadriplegia, tetraplegia eliminates your ability to move below the site of the injury, and may produce difficulties with bladder and bowel control, respiration, and other routine functions. The higher up on the cervical spinal cord the injury is, the more severe symptoms will likely be.
Paraplegia: This occurs when sensation and movement are removed from the lower half of the body, including the legs. These injuries are the product of damage to the thoracic spinal cord. As with cervical spinal cord injuries, injuries are typically more severe when they are closer to the top vertebra.
Triplegia: Triplegia causes loss of sensation and movement in one arm and both legs, and is typically the product of an incomplete spinal cord injury.
Injuries below the lumbar spinal cord do not typically produce symptoms of paralysis or loss of sensation. They can, however, produce nerve pain, reduce function in some areas of the body, and necessitate several surgeries to regain function. Injuries to the sacral spinal cord, for instance, can interfere with bowel and bladder function, cause sexual problems, and produce weakness in the hips or legs. In vary rare cases, sacral spinal cord injury survivors suffer temporary or partial paralysis.
SOURCE: SpinalCord.Com
January 17, 2017
When Samantha Deffler was young, her mother would often call her by her siblings' names — even the dog's name. "Rebecca, Jesse, Molly, Tucker, Samantha," she says.
A lot of people mix up children's names or friends' names, but Deffler is a cognitive scientist at Rollins College, in Winter Park, Fla., and she wanted to find out why it happens. So she did a survey of 1,700 men and women of different ages, and she found that naming mistakes are very common. Most everyone sometimes mixes up the names of family and friends. Her findings were published in the journal Memory & Cognition.
"It's a normal cognitive glitch," Deffler says.
It's not related to a bad memory or to aging, but rather to how the brain categorizes names. It's like having special folders for family names and friends names stored in the brain. When people used the wrong name, overwhelmingly the name that was used was in the same category, Deffler says. It was in the same folder.
And there was one group who was especially prone to the naming mix-ups.
"Moms, especially moms," Deffler says. "Any mom I talked to says, 'You know, I've definitely done this.'"
It works something like this: Say you've got an armful of groceries and you need some quick help from one of your kids. Your brain tries to rapidly retrieve the name from the family folder, but it may end up retrieving a related name instead, says Neil Mulligan, a cognitive scientist at UNC Chapel Hill.
"As you are preparing to produce the utterance, you're activating not just their name, but competing names," he says. You flick through the names of all your other children, stored in the family folder, and sometimes these competing names win.
Like in the classic scene from the TV show, Friends. When Ross says his wedding vows, he is asked to repeat his fiancée's name, Emily. He says his former girlfriend's name Rachel instead.
Now Ross probably had both Rachel's and Emily's names in his mental folder of loved ones and a mental mix-up ensued.
And it's not just human loved ones that are filed together.
"Whatever dog we had at the time would be included in the string along with my sister Rebecca and my brother Jesse," Deffler says.
So your family dog typically gets filed with other family members. This of course sparks the question — what about your family cat?
"You are much more likely to be called the dog's name than you are to be called the cat's name." Deffler says.
This implies that psychologically, we categorize the dog's name along with our family member's names, according to Mulligan.
"And we don't do that with cats' names, apparently, or hamsters' names or other animal names," Mulligan says.
Maybe that's why we call the dog man's best friend.
Source: NPR
December 12, 2016
Dementia has been slowly stealing Ruth Perez's memory and thinking ability for 20 years. Her daughter, Angela Bobo, remembers when it was clear that her mother was never going to be the same.
"She would put food together that didn't belong together — hamburger and fish in a pot. Mom never cooked like that," she says.
The mother and daughter live together in Yeadon, Pa., just outside Philadelphia.
Perez is literally in the center of the family. She spends much of her day tucked under a fleece blanket on a recliner in the middle of the living room. The 87-year-old doesn't seem to notice as her daughter and grown grandchildren come and go, but they keep up a steady one-sided conversation with her anyway.
"If I kiss her, she might lean towards me, and sometimes she'll nod," says Bobo. "What she can do at times is she can smile at you and say a word like, 'uh huh.' "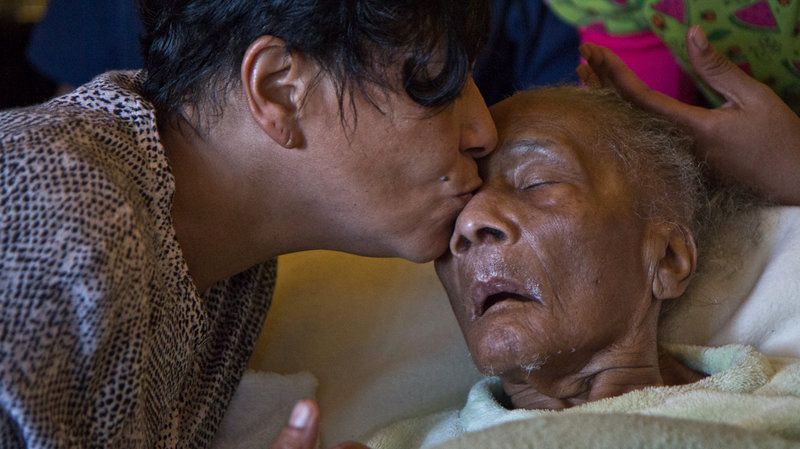 Perez can't lift her arms or move her legs.
A rotating crew of family members takes turns caring for her. They are experienced and they have routines and schedules, but a few months ago, the pressure of lying in one place created a small blister on Perez's hip. The blister burst and that became a bedsore and wouldn't heal.
"I couldn't get it to go away," Bobo says. "When I say we were at our wits' end to fix this, we were beyond there."
About 44 million Americans are unpaid family caregivers like Bobo — sometimes for a child with special needs, more often for a frail older adult, according to a 2015 estimate from the National Alliance for Caregiving. They are often women with a full-time job and kids, though now 40 percent of caregivers are men, and millennials are becoming more involved in caring for someone at home, says John Schall, CEO of the Caregiver Action Network.
"In too many cases, people just learn this stuff by themselves and that's really kind of dangerous," Schall says.
That's because many people don't have the necessary skills. Thirty-three states have adopted legislation requiring medical centers to give caregivers basic training or instructions when a patient heads home from the hospital, though how this is carried out is largely up to the hospital.
Ken Everhart, a retired tech guy from North Carolina, became a caregiver for his wife, Genie, for just a few months 10 years ago, when the two were in their mid-50s.
"What we needed was for someone to sit me down in a class and say, 'Here's how you change the sheets while she's still in the bed. Here's how you take her blood pressure. Here's how you monitor her breathing,' " Everhart says.
He worried he'd drop her as they struggled to get to the bathroom. He wasn't sure when to call 911. That uncertainty weighed on Ken — especially when Genie was rushed back to the hospital three times.
"I had given her a straw to drink out of, and a sippy cup, and I went to make a phone call. I wasn't gone five minutes and I came back in and she was choking," he says. "I should have sat her up, and I should not have allowed her to have anything to drink while I wasn't in there to watch. But I didn't know that."
Many families can't afford to use trained caregivers. Hiring help at home for just a few hours a week can cost $10,000 to $15,000 a year.
"When patients leave the hospital, they generally leave quick and sick," says Susan McAllister, medical director of quality in the Division of Hospital Medicine at Cooper University Health Care in Camden, N.J. Her team includes the social workers, home health nurses and others who help plan a patient's discharge from the hospital.
McAllister says these days it's common to come in with a heart attack, get medicine to open a blocked artery, and leave just 48 hours later. The short hospital stay isn't a problem, she says, but the transition home has to be done right.
In October, Minnesota became the latest state to pass laws to prepare potential caregivers to know what the sick person may need. California, New Jersey, Oklahoma and New York also have versions of a Caregiver Advise, Record, Enable (CARE) Act. Across the country, AARP has lobbied strongly for the proposals.
These laws generally require hospitals and rehabilitation facilities to record the name of the caregiver in the patient's medical chart. Medical centers and rehab centers must offer caregivers basic training or instructions, and the caregiver is supposed to be notified if a patient is discharged to another family member or back home.
McAllister says years ago, Cooper realized it needed to do a lot more to make sure people were healing safely at home. From Day 1, caregivers are part of discharge planning, she says. On Day 2, a social worker might help the family shop for help at home.
"On Day 3, we may start teaching inside the hospital," McAllister says.
Hospitals don't get paid more for those extra steps. But now Medicare "dings" medical centers with a financial penalty if too many patients bounce back to the hospital and have to be readmitted. The federal government's Hospital Readmissions Reduction Program was created under the Affordable Care Act.
Many at-home caregivers say the responsibility weighs heavily.
"It scares you," says Angela Bobo. "When I'm in pain, I can tell you. She can't tell me that's she's in pain." So when her mother's bedsore wouldn't heal after so many days, Bobo says, "That's when I said: 'I'm going to take her to the doctor's, because I don't know what's going on with this.' "
Bobo took her mother to the doctor, and he basically wrote a prescription saying her mom needed more help. That way, Medicare paid for skilled nursing care at home and Angela Bobo got lessons in cleaning and dressing her mother's wound. Now she knows what to expect.
"I told her it's going to get worse before it gets better," says David Wilson, a registered nurse from Crozer-Keystone Home Health Services who went to Bobo's house. He's a wound-care specialist whose job is house calls.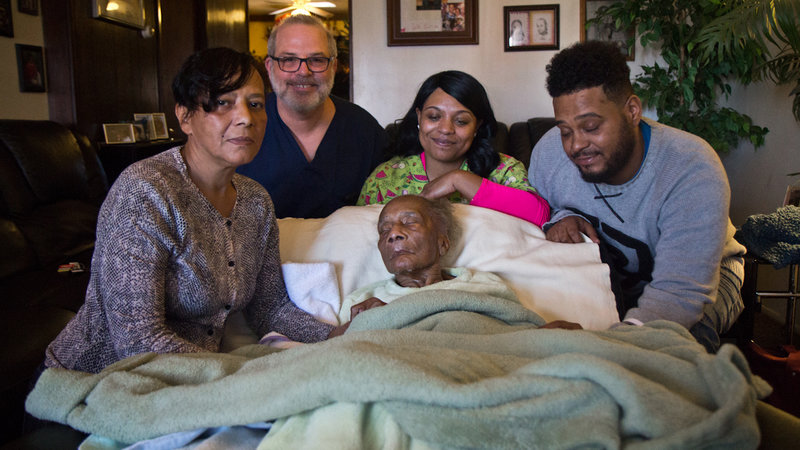 "To get a wound better, you have to remove the dead tissue and start from the ground up," Wilson says.
Some nurses come to the house, do their job and leave, but Wilson says teaching is part of his work. Lots of times he's the one nudging reluctant family caregivers who worry they're going to do the wrong thing.
"I will tell you in home care, the biggest thing is fear," Wilson says.
Wilson made several visits. He recommended a new wound-care regimen for Ruth Perez's bedsore, and Perez got an airflow mattress that relieved the pressure on her skin. Medicare paid for that, too. The nurse returned several times to check on the family, and Bobo says that gave her more confidence that she was doing the right things to care for her mother.
This story is part of a reporting partnership with NPR, WHYY's health show The Pulse and Kaiser Health News.
Source: NPR
December 3, 2016
Some encouraging news in the battle against Alzheimer's disease and other forms of dementia: The rate at which older Americans are getting these conditions is declining. That's according to a study published Monday in JAMA Internal Medicine. Researchers say one reason for the improved outlook is an increase in education.
The study used data gathered in two snapshots, one in 2000 and another in 2012, that each looked at more than 10,000 Americans who were at least 65 years old. In the first snapshot, 11.6 percent of them had some form of dementia. In the second snapshot, it was 8.8 percent.
Put in more human terms, "that's well over a million people who don't have dementia, who would have had it if the rates had stayed the same as 2000 rates," says John Haaga, who directs the Division of Behavioral and Social Research at the National Institute on Aging, which funded the study.
While the prevalence of dementia cases dropped, the average amount of education in the study population increased. In 2000, the average amount of education was 11.8 years, just shy of the 12 years it usually takes to graduate from high school. In 2012, the average amount of education was 12.7 years — in other words, high school plus a little bit of college.
Researchers don't know why education should be a protector against dementia, says Dr. Kenneth Langa, a professor of medicine at the University of Michigan and the lead author of the study. But they have some theories.
"One is that education might actually change the brain itself," Langa says. "We think that it actually creates more, and more complicated, connections between the nerve cells so that you're able to keep thinking normally later into life."
Education can not only change the brain, it can change your whole life, says Haaga.
"It affects what kind of work you do, of course. It also affects who your friends are, who you're married to, whether you're married. All aspects of life are affected by educational attainment," he says.
But the study doesn't say that education alone is the "X factor" in preventing dementia. There are medical factors, too.
Cardiovascular conditions believed to increase the risk of dementia — things like high blood pressure, high cholesterol, obesity, diabetes — are becoming more common, says Haaga. But they're also being treated more aggressively.
"So it could well be that we're getting better at managing the bad effects of these risk factors," he says. "But they are still risk factors."
This study fits a recent trend. In the past decade or so, other researchers have found similar declines in dementia risk in wealthier nations. But the populations they examined haven't been very diverse. This study is different. It draws on the ongoing Health and Retirement Study that follows about 20,000 older Americans of all backgrounds nationwide.
Langa says the ethnic, geographic and economic diversity of the subjects makes the trend shown in all these studies more convincing. "The fact that our study also shows a decline [in the prevalence of dementia], provides additional evidence that this phenomenon seems to be going on across the United States and not in one particular geographic region."
But while the risk of dementia is declining, the number of cases is still expected to rise. That's because the population of older adults in this country is increasing. The number of people 65 and older is expected to nearly double by 2050.
Source: NPR
November 30, 2016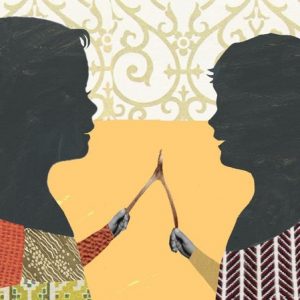 Somehow we're squeezing 18 people into our apartment for Thanksgiving this year, a year when too many people are worrying about fraught post-election conversations. My relatives, who luckily are all cut from the same political cloth, range in age from my mother, aged 92, to my 32-year-old nephew (my 17-month-old granddaughter's political leanings are still unfolding.)
I love them all, but in a way the one I know best is the middle-aged man across the table whose blue eyes look just like mine: my younger brother Paul.
Paul and I irritated each other when we were kids; I would take bites out of his precisely made sandwiches in just the spot I knew he didn't want me to, and he would hang around the living room telling jokes when he knew I wanted to be alone with the boy on the couch.
But as adults we've always had each other's backs, especially when it comes to dealing with our mother's health crises, which have become more frequent in the past few years. Paul is the first person I want to talk to when there's something that worries me about Mom; I know he'll be worried, too.
There's probably a biological explanation for the intensity of the sibling bond. Siblings share half their genes, which evolutionary biologists say should be motivation enough for mutual devotion. "I would lay down my life," British biologist J.B.S. Haldane once said, applying the arithmetic of kin selection, "for two brothers or eight cousins." Siblings are a crucial part of a child's development, too, teaching one another socialization skills and the rules of dominance and hierarchy, all part of the eternal struggle for parental resources.
When psychologists study siblings, they usually study children, emphasizing sibling rivalry and the fact that brothers and sisters refine their social maneuvering skills on one another. The adult sibling relationship has only sporadically been the subject of attention. Yet we're tethered to our brothers and sisters as adults far longer than we are as children; our sibling relationships, in fact, are the longest-lasting family ties we have.
Most such relationships are close — two-thirds of people in one large study said a brother or sister was one of their best friends. One thing that can scuttle closeness in adulthood is a parent who played favorites in childhood; this sense of resentment can last a lifetime.
Jill Suitor, a sociologist at Purdue University, and her colleagues polled 274 families with 708 adult children (ages 23 to 68) in 2009 and found that the majority had good feelings toward their siblings. Most didn't remember much favoritism when they were kids, but those who did reported feeling less loved and cared for by their siblings. It didn't matter whether they felt themselves to be the favored or the unfavored child. The simple perception of parental favoritism was enough to undermine their relationship.
That's one thing Paul and I have going for us: We're pretty sure our parents treated us the same when we were growing up. Yet we're very different people. Paul is gregarious while I'm shy, funny while I'm not, a terrific amateur saxophonist while I can't read music or carry a tune. This isn't unusual. In families with more than one child, every sibling seems to get a label in contrast to every other sibling.
So if your kid sister is the queen bee in any social gathering, you might get labeled "the quiet one" even if you're not especially quiet, just quiet in comparison. And if you're a bright child who always gets good grades, you might not get much credit for that if your big brother is a brilliant child with straight A's. There's only room for one "smart one" per family — you'll have to come up with something else. (I was smart, but Paul was smarter; I ended up being the "good one.")
The very presence of siblings in the household can be an education. When a new baby is born, writes psychologist Victor Cicirelli in the 1995 book Sibling Relationships Across the Life Span, "the older sibling gains in social skills in interacting with the younger" and "the younger sibling gains cognitively by imitating the older."
They learn from the friction between them, too, as they fight for their parents' attention. Mild conflict between brothers and sisters teaches them how to interact with peers, co-workers and friends for the rest of their lives.
The benefits can carry into old age. The literature on sibling relationships shows that during middle age and old age, indicators of well-being — mood, health, morale, stress, depression, loneliness, life satisfaction — are tied to how you feel about your brothers and sisters.
In one Swedish study, satisfaction with sibling contact in one's 80s was closely correlated with health and positive mood — more so than was satisfaction with friendships or relationships with adult children. And loneliness was eased for older people in a supportive relationship with their siblings, no matter whether they gave or got support.
That's why it's so sad when things between siblings fall apart. This often happens when aging parents need care or die — old feelings of rivalry, jealousy and grief erupt all over again, masked as petty fights ostensibly over who takes Mom to the doctor or who calls the nursing home about Dad.
Many families get through their parents' illnesses just fine, establishing networks where the workload is divided pretty much equally. So far, Paul and I have done fine, too. But about 40 percent of the time, according to one study, there is a single primary caregiver who feels like she (and it's almost always a she) is not getting any help from her brothers and sisters, which can lead to serious conflict.
And because of the particular intensity of sibling relationships, such conflict cuts to the bone. People grieve for the frayed ties to their siblings as though they've lost a piece of themselves.
Throughout adulthood, the sibling relationship "is powerful and never static," said Jane Mersky Leder, author of The Sibling Connection. Whether we are close to our siblings or distant, she writes, they remain our brothers and sisters — for better or for worse.
So let this all percolate as you sit down to turkey with your sometimes-complicated family. And remember the immortal words of folksinger Loudon Wainwright III, in a song called Thanksgiving. It's about spending the holiday with a brother and a sister he rarely sees but still has intense feelings about:
On this auspicious occasion, this special family dinner

If I argue with a loved one, Lord, please make me the winner.
Science writer Robin Marantz Henig is a contributing writer for The New York Times Magazine and the author of nine books. This is an updated version of an article that we originally published on Nov. 27, 2014.
Source: NPR
November 25, 2016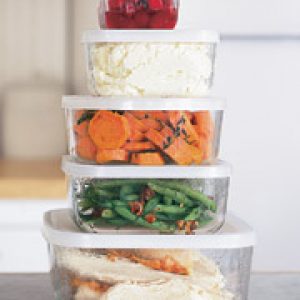 Turkey and dressing: Thanksgiving often means grazing on a table full of turkey, gravy and sides. But to keep them fresh and free from bacteria, make sure to wrap up the leftovers within two hours of serving. And don't worry if they're still warm; it's all OK to go in the fridge. If stored in the fridge, make sure to eat turkey within three to four days. Casseroles and mashed potatoes are good a little bit longer, three to five days. If you need the food to last longer, put it in the freezer. Foods kept in the freezer are good indefinitely, but they tend to lose their flavor over time.
Pie: Before you head back for seconds, make sure that pumpkin pie — or any other pie with an egg-based filling — hasn't sat out for more than two hours. If it's been sitting there longer, it may start to grow bacteria. Instead of leaving it out on the table, loosely wrap in foil or plastic wrap and put in the fridge. It will keep for three to four days. And that goes for store-bought pies, too. Once you cut into a store-bought pie, you need to store it in the fridge
Frozen vegetables: Frozen vegetables and fruits are a great way to get farm-fresh tastes, even with foods that are out of season. But how long can they keep in the freezer? In fact, they can stay there indefinitely and still be safe to eat. But they will lose out on taste after a while. To keep veggies and fruits tasting their best, make sure to eat within a year of purchase. Once they're cooked or defrosted, store leftovers in the fridge for three to four days.
Source: CNN