January 20, 2017
An estimated 12,500 spinal cord injuries occur in the U.S. every year, leaving the injured people, their friends, and their family, to cope with the aftermath of the catastrophe. For many, navigating the challenges of the health care system can feel a bit like going to medical school. Suddenly you're learning a veritable cornucopia of new terms, and may be spending endless hours Googling spinal cord anatomy to fill in the gaps in your knowledge.
An educated patient is better equipped to advocate for his or her needs and interests. An education in spinal cord anatomy helps you understand what your doctor is saying, ask intelligent questions, and detect medical errors before they endanger your health.
Spinal Cord Anatomy: The Basics
Though you might think of your spinal cord as one single piece, it's actually a column of nerves protected by a sheath of myelin and then further secured by 31 butterfly-shaped vertebrae (singular: vertebra).
Medical providers divide the spinal cord into four distinct regions. Knowing the region in which the injury is located is often the key to understanding diagnosis and treatment. The four spinal cord regions are:
The cervical spinal cord: This is the topmost portion of the spinal cord, where the brain connects to the spinal co
January 17, 2017
When Samantha Deffler was young, her mother would often call her by her siblings' names — even the dog's name. "Rebecca, Jesse, Molly, Tucker, Samantha," she says. A lot of people mix up children's names or friends' names, but Deffler is a cognitive scientist at Rollins College, in Winter Park, Fla., and she wanted to find out why it happens. So she did a survey of 1,700 men and women of different ages, and she found that naming mistakes are very common. Most everyone sometimes mixes up the names of family and friends. Her findings were published in the journal Memory & Cognition. "It's a normal cognitive glitch," Deffler says. It's not related to a bad memory or to aging, but rather to how the brain categorizes names. It's like having special folders for family names and friends names stored in the brain. When people used the wrong name, overwhelmingly the name that was used was in the same category, Deffler says. It was in the same folder. And there was one group who was especially prone to the naming mix-ups.
December 12, 2016
Dementia has been slowly stealing Ruth Perez's memory and thinking ability for 20 years. Her daughter, Angela Bobo, remembers when it was clear that her mother was never going to be the same. "She would put food together that didn't belong together — hamburger and fish in a pot. Mom never cooked like that," she says. The mother and daughter live together in Yeadon, Pa., just outside Philadelphia. Perez is literally in the center of the family. She spends much of her day tucked under a fleece blanket on a recliner in the middle of the living room. The 87-year-old doesn't seem to notice as her daughter and grown grandchildren come and go, but they keep up a steady one-sided conversation with her anyway. "If I kiss her, she might
December 3, 2016
Some encouraging news in the battle against Alzheimer's disease and other forms of dementia: The rate at which older Americans are getting these conditions is declining. That's according to a study published Monday in JAMA Internal Medicine. Researchers say one reason for the improved outlook is an increase in education. The study used data gathered in two snapshots, one in 2000 and another in 2012, that each looked at more than 10,000 Americans who were at least 65 years old. In the first snapshot, 11.6 percent of them had some form of dementia. In the second snapshot, it was 8.8 percent. Put in more human terms, "that's well over a million people who don't have dementia, who would have had it if the rates had stayed the same as 2000 rates," says John Haaga, who directs the Division of Behavioral and Social Research at the National Institute on Aging, which funded the study. While the prevalence of dementia cases dropped, the average amount of education in the study population increased. In 2000, the average amount of education was 11.8 years, just shy of the 12 years it usually takes to graduate from high school. In 2012, the average amount of education was 12.7 years — in other
November 30, 2016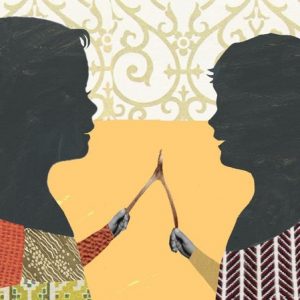 Somehow we're squeezing 18 people into our apartment for Thanksgiving this year, a year when too many people are worrying about fraught post-election conversations. My relatives, who luckily are all cut from the same political cloth, range in age from my mother, aged 92, to my 32-year-old nephew (my 17-month-old granddaughter's political leanings are still unfolding.) I love them all, but in a way the one I know best is the middle-aged man across the table whose blue eyes look just like mine: my younger brother Paul. Paul and I irritated each other when we were kids; I would take bites out of his precisely made sandwiches in just the spot I knew he didn't want me to, and he would hang around the living room telling jokes when he knew I wanted to be alone with the boy on the couch. But as adults we've always had each other's backs, especially when it comes to dealing with our mother's health crises, which have become more frequent in the past few year
November 25, 2016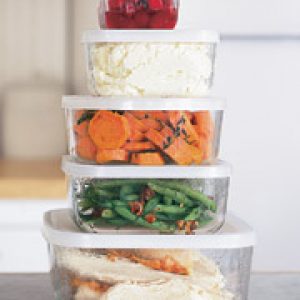 Turkey and dressing: Thanksgiving often means grazing on a table full of turkey, gravy and sides. But to keep them fresh and free from bacteria, make sure to wrap up the leftovers within two hours of serving. And don't worry if they're still warm; it's all OK to go in the fridge. If stored in the fridge, make sure to eat turkey within three to four days. Casseroles and mashed potatoes are good a little bit longer, three to five days. If you need the food to last longer, put it in the freezer. Foods kept in the freezer are good indefinitely, but they tend to lose their flavor over time. Pie: Before you head back for seconds, make sure that pumpkin pie — or any other pie with an egg-based filling — hasn't sat out for more than two hours. If it's been sitting there longer, it may start to grow bacteria. Instead of leaving it ou
October 10, 2016
Breast Cancer Survivor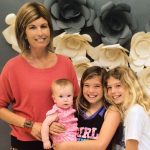 On June 3, 2015, I received the devastating call that my breast biopsy was malignant, including lymph nodes, making it at least stage 3. I was 34 years old, and 26 weeks pregnant. I had originally thought the swelling was due to pregnancy and put off mentioning it to my doctor for months, but as it had rapidly grown in the preceding few weeks, I knew deep down it was something more. Lesson 1: See your doctor ASAP if you think something could be wrong, and follow your instinct! My husband and I had two other daughters, ages 8 and 9 at the time, and that night all I could do was hug them and let fears flood my mind of leaving them motherless. The next few weeks were a blur. The doctors moved incredibly fast, which scared me (they made it clear this was VERY serious!), and within a week of diagnosis I was introduced to my oncologist, given a treatment plan, went through X-rays and ultrasounds to check for metastasis (couldn't do any comprehensive body scans due to pregnancy), had a port surgically placed in my chest, and completed my first round of chemotherapy. As I finished out my pregnancy that summer while going through
October 4, 2016
According to the American Cancer Society, "Breast cancer starts when cells in the breast begin to grow out of control. These cells usually form a tumor that can often be seen on an x-ray or felt as a lump. The tumor is malignant (cancerous) if the cells can grow into (invade) surrounding tissues or spread (metastasize) to distant areas of the body." What else should you know about breast cancer?
One in eight women in the United States will be diagnosed with breast cancer in her lifetime.
Breast cancer is the most commonly diagnosed cancer in women.
Breast cancer is the second leading cause of cancer death among women.
Each year it is estimated that over 246,660 women in the United States will be diagnosed with breast cancer and more than 40,000 will die.
Although breast cancer in men is rare, an estimated 2,600 men will be diagnosed with breast cancer and approximately 440 will die each year.
On average, every 2 minutes a woman is diagnosed with breast cancer and 1 woman will die of breast cancer every 13 minutes.
Over 2.8
September 19, 2016

September 9, 2016
This article was previously published on SpinalCord.com by Zawn Villines. Though about 12,500 people survive spinal cord injuries each year, few people learn much about these catastrophic injuries until they are injured or must care for an injured loved one. Most spinal cord injuries are preventable, and knowing the causes of these injuries can help you avoid becoming a victim. And if you or someone you love already deal with the frustration and pain of a spinal cord injury, knowing the most common sources of these injuries can help you feel a bit less alone. Each year, the National Spinal Cord Injury Statistical Center at the University of Alabama-Birmingham compiles an assortment of statistics on spinal cord injuries. It's interesting to note that, in almost all category of injuries, men are more likely to be injured than women. Men account for more than 80% of SCI victims, and the re